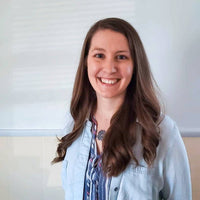 Welcome!
Hi friends! My name is Christi Becker and I want to welcome you to my little neck of the woods. I am a studio potter in the green mountains of Vermont, working full time as a production artist at ShackletonThomas and in my free time scratching my creative itch with personal studio work. You will find one of a kind and small batch designs created by me in my home studio here.
I have been working as an artist since I graduating from Bethany College with an Arts Administration degree in 2014. I was the administrative assistant to the art department, I opened and ran my own gallery/studio on Main St, I worked as a production potter building my throwing skills and as a gallery coordinator. I am currently working as a decorator on the Miranda Thomas Pottery team while I design and curate a collection of my own pottery. I'm excited I get to share my artworks with you.
Click here to see my latest work and thank you for supporting my studio! 
Shop Now